Authorspress and its Imprints are Leading Publishers of India
S Kumar's "Paul Scott's Vision of India"
Though Twin-born With Indian English Literature, Anglo-Indian Literature Is Not As Popular As The Other. Chiefly Written During The Colonial Period, It Comprises Works Which Are Everlasting Sources Of Information As Well As Interest. As In Indian English Literature, In Anglo-Indian Literature Too, The Novel Is The Most Popular Form. The Anglo-Indian Novel Depicts The Experience Of The British In India. It Also Registers How The British Responded To The Geographical, Socio-cultural And Political Climates Of India.
Paul Scott Is A "Jewel In The Crown" Among The Anglo-Indian Novelists. Endowed With Photographic Memory, Minute Observation, Classic Narrative, And, Above All, An Unbiased Mind, Scott Has Pen-pictured The Closing Years Of The Raj In His Masterpiece The Raj Quartet. Set In India Between 1942 And 1947, The Raj Quartet Captured Some Of The Finest Moments In Indian History. The Most Striking Feature Of The Four-volume Novel Is Its Unprejudiced Attitude Towards India And Indians. The Book Paul Scott's Vision Of India Is A Humble Tribute To The Impartial Attitude Of Paul Scott.
Prem Kumari Srivastava and Gitanjali Chawla's
"De-Territorial Diversities: Literatures of The Indigenous And Marginalised"
The selection of essays in this volume, De-territorializing Diversities: Literatures of the Indigenous and Marginalised explore the dynamics of the problematic relationship within indigenous discourses hitherto marginalized and combating extinction. These 'other' voices, their lived experiences and ideological burdens are accorded their 'space' through meaningful explorations in the essays presented here. It is an attempt to look for the 'untold' in the told experiences of those at the margins. These essays unpeal their layered narratives to recover 'lived experiences' and uncover their understanding of rootedness and fear of displacement. Needless to say, the central concern of this book remains the conviction to "de-museumise" (for wont of a better word) cultures in a sincere bid to avoid stereotyping and creation of a clichéd picture gallery. Response to the present are problematized with the caveat that though tensions exist within indigenous research circles due to lack of authentic theories, it is worthwhile to advance the view that, at its core, such research as exhibited in the papers in this volume, is designed to seek social justice, to enhance their voice and influence in society, and to explore alternative ways of understanding the world through their experiences. This volume is the second in a series designed under the dynamic field of "De-territorializing Diversities: Cultures, Literatures and Languages of the Indigenous". The first volume focuses on the cultural matrices of the indigenous and the marginalized and we hope to extend the series by bringing out a third collection in the broad area of the Indigenous and the Popular in 2015.
"Reading Literature Through Feminist Lens"
Feminism as a social and cultural movement has drastically altered the way literary texts are read and interpreted. Feminist literary theories have consistently shown a tendency to revaluate literary traditions beyond schematic studies, blurring the boundaries between social commentary, theory, philosophy, culture, politics and history in order to comprehend the complex relationships between culture and gender. The essays in the present volume address the ways in which feminist literary theory has developed across the multiple stages of feminism, drawing from a similarly varied corpus of literary works. While assessment of women's writing feature in this volume as a means of showcasing the "difference" produced by women authors, the essays also read into texts by male authors as a means of interpreting the patriarchal structures operating in texts by both male and female authors. The variety of literary works which cover several historical, literary and cultural periods are also helpful in showing a wider arc of gender mechanisms in literature. The essays in this anthology demonstrate how the various strands of feminist literary theory can be applied to texts, besides inviting readers to develop their own feminist theoretical interpretations of texts.
"Postcolonial Approaches to Literature: Text,  Context, Theory"
The area of postcolonial studies is one of the most rapidly expanding areas of cultural studies today. Despite a large number of books dedicated to explorations of postcolonial studies as a theory and its historicity there have been few that could aid the beginner student in attempting to embark on a literary study of one's own. Compiled to address the needs of understanding postcolonial studies more than mere theory this volume addresses literary texts in light of theoretical traditions of postcolonialism. The chapters, while reviewing particular authors and literary works from a large breadth of national origins, also present innovative applications of not only familiar theories but also less known ones. The contexts of gender, nationalism, identity, diaspora, colonial land ownership, magic realism, myth, history, religion and marginalisation are presented with the scaffolding of theoretical devices of Fanon, Said, Spivak and Bhabha among several others. The authors discussed, from nations including India, Pakistan, Australia and Nigeria, help examine the vast wealth of postcolonial literary disciplines. The essays in this compilation demonstrate how the various strands of postcolonial theory can be applied to texts.
Samuel Dani's "Folktales of a Forgotten Folks"
A string of forty tales, Folktales of a Forgotten Folk offers a glimpse of the creative world of the Kamars alias Paharia, a tribe living in a quiet backwater of Odisha. Demographically victimized and economically marginalized, they have preferred a life of wild seclusion in forgotten cozy hills where, besides eking out a meagre existence on bamboo craft, they also churn out rich corpus of orature. The entire day they chisel bamboo into exquisite art, and when evening settles down they sit around a burning hearth to listen to tales woven out of eerie jungle night and sylvan mountain valley. The tales reflect the collective creative engagement, not idiosyncrasy of an individual raconteur, and epitomise a candid tour de force. This collection is a treasure-trove of stories, sometimes heart-wrenching and sometimes peppered with irony and ribald humour.
Ketaki Datta's "Sahitya Akademi Award Winning English Collections"
This book is about Sahitya Award-winning English writings, which is obvious from the title of the volume itself. But, what is not evident from the title is the various interesting angles from which the bunch of scholarly writers judge the award-winning English works. The readers, I am sure, will think of taking up the works once again, and read them with an analytical mind, for which they would definitely owe, to a great extent, to these scholar-writers. Analysing The Guide by R. K. Narayan, Bhabani Bhattacharya's Shadow from Ladakh, Shashi Deshpande's That Long Silence. Amitav Ghosh's The Shadow Lines or Girish Karnad's Tale-Danda and many other notable works with different points of view is not an easy job. And, this book contains seventeen such valuable articles which would surely help a student, a teacher or a researcher of Indo-Anglian literature to know the works better. No doubt, apart from the people of this particular field, any other common reader is welcome to read this book and take a peep into Indian-English award-winning works, a bit seriously.
P V Laxmiprasad's "The Heterogeneity of Story Writing"
The Heterogeneity of Story Writing: A Critical Evaluation of Eight Indian Short Story Writers in English is truly heterogenic in themes and settings and typically Indian in different flavors. They have established that Indian Story Writers are remarkably creative at improvisation in style and making. Overall, they have emerged as the brand ambassadors of Indian tradition, culture and modernity. About the Editor: An academician and a researcher, Dr.P.V.Laxmiprasad hails from Karimnagar, Telangana. He holds Ph.D. from Kakatiya University, Waranagal. He is by passion a writer and by profession a teacher. As a poet and literary critic, he has published one hundred poems in English, sixty five articles and fifty five book reviews. He has translated a few poems and short stories from Telugu into English. With a rich haul of more than 300 publications in different journals, he has enriched the glory and image of Indian English Literature. He regularly contributes his writings to as many as twenty three journals of repute. He is on the editorial board of reputed literary journals. He has been honored with an award for excellence in English poetry by International Poets Academy, Chennai. He has presented scholarly papers at national and international seminars and conferences, delivered plenary talks and chaired sessions as a resource person. So far, he has published five books namely 1) Universal Witness (Poetry Collection in English, Thematics Publications, Latur, 2012) 2) The Philosophical Muse: Perspectives on the Poetry of K.V.Raghupathi (Critical Book of Essays, APH Publishing Corporation, 2012, New Delhi) 3) Introspective Voyager : A Collection of Critical Essays on the Poetry of K.V.Raghupathi, Authors Press, New Delhi, 2014) 4) An Anthology of Criticism on Six Indian English Poets (Sarup Publishers Pvt Ltd, 2015) 5) Mapping Thematic Variations : The Poetry of DC Chambial (Authors Press 2015). He is fond of listening to Classical songs in Hindi and Telugu.
Bijender Singh's "Critical Essays on Indian Diaspora"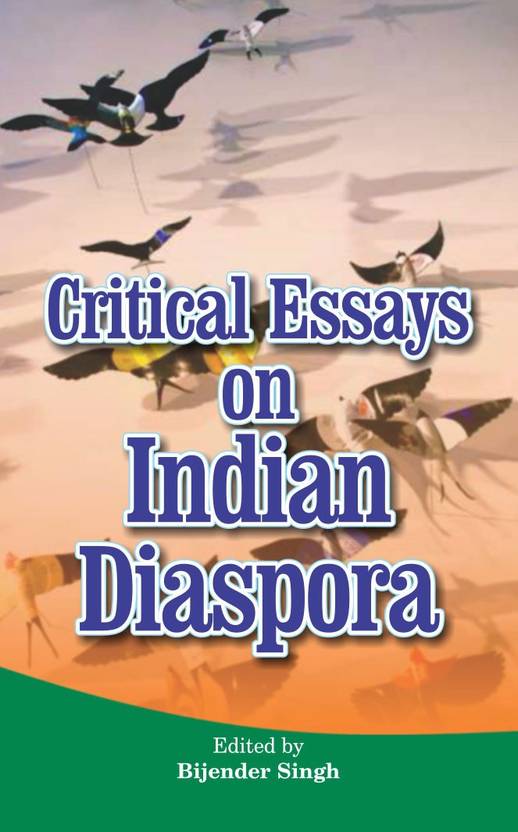 Critical Essays on Indian Diaspora is a collection of twenty-seven well-crafted scholarly articles, contributed by great academicians and erudite scholars. They ostensibly focus on the themes of immigration, relocation, nostalgia, cultural-clash, identity, alienation and other diasporic issues. The advent of twenty first century and the great influence of globalization have brought in an upheaval change in the attitudes of the Indian Diasporic writers. This change has resulted in their enriching and expanding the horizon of Indian fiction through the realistic portrayal of diasporic subjects as well as their compromises on an alien land. Through this book, an attempt has been made not only to probe into the new explorations of diasporic writings but also to analyze those works from several critical perspectives. Thus, the book is unique in itself that purports to rethink the mind and body dichotomy in some select Indian Diasporic fictions.
Shantanu Basu's
"The Worm Within: Corruption & Erosion Of India's Accountability Institutions"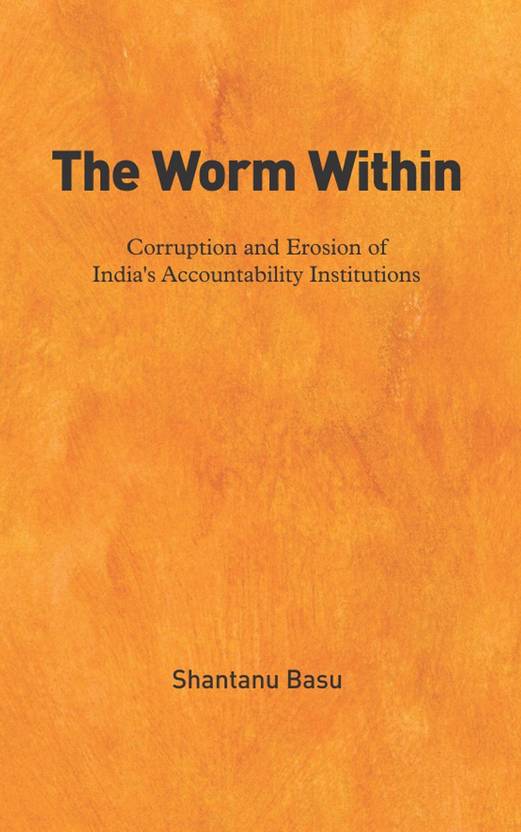 This book takes the reader on an extensive tour of the phenomenon of corruption and academic research thereon. In the Indian context, the author conclusively establishes the historical and ongoing fostering of negatively-imposed collaborative relationships between the executive and their accountability institutions at their respective apex levels. These aberrant relationships percolate to structures of these accountability institutions. Grand corruption,the prime manifestation of weak governance, is the logical corollary of such collaboration.The common Indian faces the brunt of demands from extractive street-level bureaucrats who are no more than the percolated tail-end of such collaboration. Governance and accountability deficits therefore catalyse citizens seek judicial intervention on their behalf.Likewise, the media dons the mantle of judge, jury and executioner for self-seeking interest groups and emerges as a dangerously unaccountable parallel structure of governance.India's new emerging young middle class finds such deficits revolting that sets the stage for confrontation with an impervious State. Yet some institutions survive the onslaught. The book concludes with several out-of-the-box ideas for a global and prosperous India. Delivered in simple prose, this extensively-researched and definitive study would appeal to a wide cross-section of India's corruption-afflicted society and global academia.
Divyajyoti Singh's
"The Forgotten Ram: The Lore and Legend of Sir Chhotu Ram"

The Forgotten Ram: Lore And Legend Of Sir Chhotu Ram Is A Quasi-fictional Biography Centered On The Stalwart Peasant Leader Chaudhary Chhotu Ram. It Is Woven Out Of Folklore And Oral Narratives Gathered About Him. The Book Includes About Twenty- Two Chapters Spanning His Life That Illustrate A Watershed Time In The History Of Undivided Punjab. The Text Blends Narrative, Dialogue, Sketches And Commentary To Imaginatively Reconstruct The Rural Life Of Punjab In 1900s. It Also Illustrates The Political Scene Of The Day Where Chhotu Ram's Unionist Party Came With A Thumping Majority, Changing The Established Equation Between The Farmer And The Raj Forever. Though An Eminent Part Of The Lore In Haryana, Chhotu Ram Has Been Relegated From Mainstream Historical Accounts. His Radical Thoughts, Rare Agenda And The Agrarian Renaissance He Ushered, However, Demand To Be Chronicled.
For Chhotu Ram, Reforms Could Have A Lasting Character, Only If The Farmer Changed Too. He Brought In Momentous Legislations Monitoring The Economic And Social Life Of The Day. He Was Unfazed By Serious And Offensive Opposition That Tried To Stall His Programme. Furthermore, He Urged The Farmer To Assume The Role Of A Forerunner Rather Than A Mere Follower In The Freedom Movement. His Arch-antagonist Was Not A Person But The System Of 'compound Interest' That Fleeced The Farmer, But There Was Also Jinnah On The Horizon Slowly Closing-in. Chhotu Ram Perceived His Destructive Potential And Undertook A blitzkrieg March From Peshawar To Hodal That Should Have Concluded In A Grand Rally At Lyallpur (Faizlabad, In Current Pakistan), Had He Lived. The Fate Took An Unfortunate Turn And After Chhotu Ram's Death Due To High Fever And Fatigue, Jinnah Was Able To Make A Rapid Headway In Punjab Politics, Breaking The Secular Bond That Chhotu Ram, Mian Fazli Hussain, Sir Sikandar Hayat Khan, And Khizr Hayat Khan Had Built Dedicatedly Over Decades.
Basavaraj Naikar's
"Representation of History in the Indian/English Drama"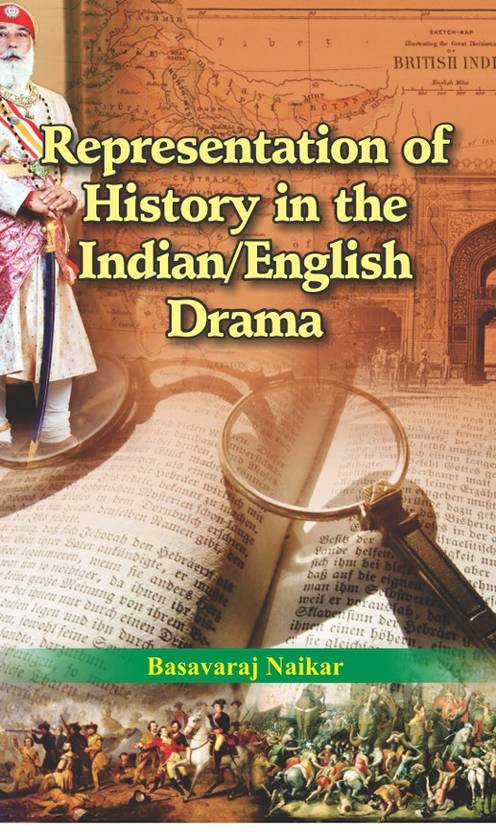 The present volume deals with the topics like history and historioraphy in the Indian context and discusses some of the significant works of the historical dramatists of India like Sri Aurobindo, Harindranath Chattopadhyaya, M.M.Kalburgi, Indira Parthasarathy, Girish Karnad, Partap Sharma, Lakhan Deb, Gurucharan Das and Manohar Malgaonkar, which are unfortunately neglected by the Indian scholars. This volume offers in-depth textual analyses of the famous historical plays like Siddhartha: Man of Peace, Rodogune, Prince of Edur, Fall of Kalyana, Ramanujar, Tughlaq, Aurangzeb, Begum Sumroo, Tiger Claw, The Dreams of Tipu Sultan, Lains Sahib and Line of Mars.
Anup Shekhar Chakraborty's
"Politics Of Autonomy And Ethnic Cocooning In Mizoram"
This book concentrates on highlighting several issues that form the complex matrix of identity within the terrain of the socio-political-cultural landscape of Mizoram. It highlights the braided nature of the relations between the Centre and the State and also looks at the process of party formation and attitudes towards the southerners vis-a-vis the northerners in the process of identity formation. This study also bring out the complex within tribe relations which are moulded by strictures of patriarchal control and are exerted very intensely over issues of identity formation, centre-state relations and governance; and such relations continue to be moulded in the strict notions of Zo/Mizo understanding of identity and development.
Sailen D Das and Rubul Patgiri's
"Gender Issues In Northeast India: Bridging the Gap"
The present book is a humble endeavour by young scholars from India's northeast to develop a gender-centric discourse focusing on a plethora of issues and problems that are encountered by women in the region. The focal point of the book is women and society and its interplay in Northeast India. The essays in this volume throw light on multiple aspects of women lives and the dimensions of women studies in the region. Majority of them are outcome of empirical research done by the individual contributors. The issues addressed in the book, although put in the context of Northeast India owe greater significance for the women in wider socioeconomic and political contexts. This volume is bound to bridge the long-felt gap in women studies and meet the needs of academics, researchers and other enthusiasts.
M Hilaria Soundari's
"Sustainable Development of Rural Women"
The present volume is the collection of empirical research studies on the vulnerabilities and resilience methods applicable to rural women in India. It has identified the socio-economic and cultural vulnerabilities of these women. It has portrayed that SHGs and ICT could be some the remedial measures in building resilience. It has incorporated the deliberations, views and research findings of the scientific studies. A number of academicians, development personnel, NGOs and field researchers actively participated in bringing out this volume. It has helped the participants to understand the constraints of vulnerabilities and related policy initiatives in the sustainable development of rural women. The present issue that is finely edited will be of use to academicians and practitioners who are geared to the sustainable development of rural women in India!
Rob Harle, Sunil Sharma and Sangeeta Sharma's
"P C K Prem: Echoing Time And Civilisations"
This book is a scholarly collection of essays which investigate, critique and discuss the creative writing of P. C. K. Prem, a senior writer and poet of National and International repute. There are over twenty contributions written by highly-educated and well respected scholars. It includes two most revealing interviews – one by Dr Sunil Sharma and the other by Prof. V. G. Nand, short personal articles by P.C. K's wife, son and daughter, and friend D.C Chambial, which give a wonderful insight into Prem's life and add balance to the more technical, analytical articles. The writers discuss and critique Prem's different publications, and from quite disparate approaches. The book is highly readable and most enjoyable, and will without doubt become a definitive resource and reference on Prem's poetry, writing and life, further securing his position as a unique voice in Indian-English literature.
Provakar Palaka's
"Politics Of Writing: A Study of Dalits in Odia Literature"
Every writing is a political act with a clear purpose, objective and agenda. Therefore, several questions arise in one's mind- Who writes, what, for whom and why? Writings in India are built up around the caste system. The Dalits in India have remained merely the object of the writings by the upper caste Hindus.
This book is a critique of the history of literature which is primarily written and interpreted from a view point of the upper caste Hindus. It attempts to reread and revisit the writings on Dalits in India in general and Dalits in Odisha in particular and rewrite their history and their literature from their perspective.
This book is an endeavour to provide a monograph of Dalit writings and writers in Odisha. For the first time one sees a host of Dalit writers and their writings brought to the limelight. They not only contest the Brahmanical hegemony but also strive towards creating an egalitarian society.
Eeshan Ali & Soumya Mohan Ghosh's
"Problematics Of Gender Discourse: Perspectives on Masculinism and Feminism"
The scholarly articles in this compiled and edited volume probe into the theoretical complexities to understand and critically evaluate the varied perspectives of gender discourse. The critical study of the introduction of the book will serve as a quick and easy reference to masculinism and feminism. The diverse nature of the essays range from exploration on Masculinism, Feminism, Gender Studies and Queer Studies engaging with the analysis of literature, film, magazine and popular media. It is hoped that the essays will open new vistas for further exploration and this rich volume would be of great help to the students, scholars and academicians.
 M. Anjum Khan and S. Kalamani's
"Ethnic Silhouettes: M. G. Vassanji in the Light of New Historicism"
The book is about a less known community which has been shrouded under multi-layers of changes. It begins with chiseling and carving a niche for M. G. Vassanji's works in the world and ends with an inventory of progressive ideologies and idiosyncrasies of this community. A nostalgic painting brush is used to render this portrait based on the fictional and actual memories. Technically, new historicism is employed to interpret and chart the history which happened, yet not recorded.
The book is divided into six chapters focusing on M. G. Vassanji as a world writer and the rendering of his community through new historical technique. The interpretation is further endorsed with factual details. It is an interdisciplinary read appealing to literature, theory, history, socio-cultural studies and religion. It has a good bibliography attached recommending high-quality sources.
Dalvir Singh Gahlawat's
"Indian Policing: Significance Of Intelligent Leadership"
Writing this book on Indian Policing: Significance of Intelligent Leadership is not author's aim to make a tall claim of publishing one after one book but to bring some burning, realistic, fangled and innovative ideas before the readers, seekers, researchers, scholars and particularly police officers who are working on the prolonged demand or project of Police Reforms.
This book is an anthology of ten highly qualitative papers which are fully pregnant with fecund and discerning approach of ideas, thoughts and empirical data, set against the backdrop of police history by keeping the managerial environment and requirement of contemporary societal norms in view. Focusing on disparagement and hurdles being faced from the low layer to top cop in police department, it has been emphasised on the importance of scientific investigation, honed and intelligent leadership, importance of technology, improvement of police philosophy and Human Rights Values which also require to be followed by a Police Officer on duty.
Ecaterina Pătrașcu's "Voices Of World Literature"
Dr. Ecaterina Patrascu in her scholarly book Voices of World Literature undertook the daunting task of providing a critical interpretation and reconceptualization of post modern texts to offer the readers and academic an invitation to encounter varied critical manifestations by providing wonderfully communicative paradigms. This collection of seven very well-researched papers reverberates with the literary voices of literature in a true sense as they range from Adiga to Rushdie. It brings together for the first time a detailed examination of the literary voices of the world literature today inviting us to explore the new perspectives that will open new horizons of deliberations to shape the critical theories about the eminent writers and their fiction accommodated in the book.
K Damodar Rao's
"Mapping English: Recent Studies In Language And Literature"
This anthology brings together scholarly voices in a mosaic of perspectives that explore wide ranging areas in English language and literature. As such, the scope and range of articles included are multi-dimensional. The collection offers refreshingly fresh, original perspectives by eminent scholars and teachers. One common feature that seams the collection is its argumentative tone in presenting ideas that is felt throughout. The language part includes interesting themes like the case for a good dictionary, importance of soft skills, note on presentation skills, synchronous communications, ESL for adivasis, legal English and advertising register. The literature part presents a variegated gamut, films and literature, gender studies, and analyses of works of Golding, Adrienne Rich, Anand, Malgonkar, Rushdie, Shashi Deshpande, Mahasweta Devi and Ngugiwa Thiong'o. A rich, veritable content that invites attention of those actively involved in scholarly pursuits.
Archana Bhattacharjee's
"Reflection Of Social Ethos In The Selected Novels Of Arundhati Roy, Kiran Desai And Aravind Adiga"
This book provides excellent footing to explore and understand Arundhati Roy, Kiran Desai and Aravind Adiga and their the Man Booker winning texts. A unique feature of the book is the well-knitted introduction and conclusion of each section by finer details of almost all aspects of Indian ethos and inclusion of what is normally thought as trivial in greater details for the variety of interpretations which will go a long way to help the readers understand the subject thoroughly. This book carries the rich experience of exploring and identifying with these authors in their treatment of social ethos that is reflected in every line of the book.
Bijender Singh's "Indian Dalit Autobiographies"
Indian Dalit Autobiographies: Marginalized Voices is a bouquet of twenty-eight scholarly articles which offers a critical analysis of different autobiographies in Indian Dalit Literature. The articles in this book grub out the vibrant dalit themes very astutely which are inherent in almost all dalit autobiographies. The most common themes explored in this book are caste-discrimination, exploitation, suppression, humiliation, pathos, tyrannies, indignities, sufferings, atrocities, marginalization, identity, dalit consciousness etc. This book brooches the topic of caste discrimination due to which the penurious people are forced to live a hellish life. Since aeons, the subalterns have been living their lives in the poverty trap and they feel steamed up but are foredoomed to failure in their endeavours. Some memoirs and related genres which are similar to the core dalit themes also have been included in this book keeping in view the importance and similarity of those works with autobiographies in the arena of Indian Dalit Literature.
Abanikanta Dash and Sher Khan's "Life Writing And The Claims of Truth"
Life writing means writing the story of life. If it is the recording of selves, memories, past incidents, events and experiences, whether one's own or another's. So in this enterprise the chief raw material one uses is 'story'—one's life is a story and it is worth narrating because it is necessarily different from every other's life. In view of the widespread popularity of 'Life writings' on the one hand and less critical attention to its various forms in India compared to the West on the other hand, this volume attempts to map out the rich unexplored territories for the edification of the students, scholars and the large number of general readers who account for the intellectual discourses on auto/biography. It includes articles chosen from the UGC-sponsored National seminar held at Karanjia (Autonomous) College, Mayurbhanj, Odisha. The articles are contributed by erudite scholars all over the country. This volume will surely help to understand how to approach the autobiographical works of writers and place these in specific hermeneutic and cultural context.
 K Baby and Manju Varghese's
"Financial Inclusion And Economic Development: An  Overview"
Banks are one of the most important parts of any country. Financial inclusion has become one of the most critical aspects in the context of inclusive growth and sustainable development in the developing countries like India. The banks provide institutional credit to the weaker sections of the society at concessional rate of interest. The concept of financial inclusion generate greater economic benefit to back ward people, which also makes positive contribution to rural development. The present book analyses the role of financial systems in India in financial inclusion process and also to assess whether financial sectors has made any progress towards ensuring broader banking services for the rural poor people in strengthening the India's position in relation to financial inclusion. It will serve as a path finder to the researchers, students and policy makers.
Sonali Singh's
"Terrorism And Gandhian Response: Case Studies and Societal Perceptions"
In the light of proliferation of terrorism in recent times and its use by both state and people for political ends, time has come to challenge its increasing use as a tactics. Further, use of only counter-violence to end terrorism is questionable as is evident from the 9/11 wars against Al-Qaeda and the subsequent rise of ISIS. Motivations and violent beliefs behind terrorism cannot be addressed by violence alone. In this backdrop, Mahatma Gandhi's philosophy of Truth and Non-violence is relevant as it provides the premise for building alternative responses to terrorism. Gandhian response thus developed is used for analyzing definitional dilemmas of terrorism, its root causes and the measures adopted by state with reference to Islamist terrorism. Responses to 9/11 America, 26/11 Mumbai and 13/11 Paris attacks has been compared from Gandhian perspective. Interestingly, societal perceptions towards terrorism and Gandhian response, obtained through a survey substantiates central propositions of the work.
Appu Jacob John's "Resistance In Exile: A Study of Tibetan Poetry in English"
Resistance in Exile: A Study of Tibetan Poetry in English is a pioneering work on Tibetan poetry in English. Tibet may perhaps be the last existing colony in the World. They are a set of people who still believe in an ancient theocratic world, but they have neither a country nor identity not even existence as a nation. Scattered all over the World as refugees, they form a world that does not exist for the modern man. The Tibetan refugees have started to voice their protests. This work is an analysis of their protests – of how poetry can be a resistance in exile; a peaceful resistance. In a world torn between violent attacks by extremists and often governments themselves; this study is the record of three generations of poets and how a people are able to protect their essential "Tibetannes" and highlight their lost culture.
Abdus Sattar and Eeshan Ali's
"Debilitation Of Ethics, Values and Identity in the Postmodern Indian English Literature"
The scholarly articles in this compiled and edited volume probe into the theoretical complexities to understand and critically evaluate the varied perspectives of postmodern Indian literature. The critical study of the introduction of the book will serve as a quick and easy reference to postmodern literature in India, which has been critically discussed age and genre wise. The diverse nature of the essays range from exploration on various important works will show a different angle to judge and interpret a literary piece in the light of postmodernism. It is hoped that the essays will open new vistas for further exploration and this rich volume would be of great help to the students, scholars and academicians.
 P. Prayer Elmo Raj's "Religion Politics And Secularism in India"
Religion, Politics and Secularism in India brings together critical voices on historical and contemporary secular perspectives, secular view points on the interface between religion and politics and the creative and existential facets of anticipating co-existence and mutuality. The essays are edited in remembrance of Asghar Ali Engineer, a reformist and prophetic voice of modern India.He has dealt in-depth with the roots of Indian secularism, the interplay between state and religion, and the manner in which contemporary secularism is threatened/practiced by the political/religious events as it unravel in the present context with a voice that emphatically called for harmony.
M K Zeineddine "Ali B Abi Talib: Reflection of a Prophet"
What truly defines the nobility in a man's character is the humane decisions made in times of ease and conflict, wealth and poverty and war and peace. In a world blemished with daily violence, corruption and oppression, the need for a noble man to remind us of the fundamental principles that tie fellow humans together is becoming paramount. To those who cherish freedom and speak of human rights, this book presents that man who spoke of and fought for these principles to protect human dignity and moral values. This man is Ali b. Abi Talib, whose teachings are as immensely vital today as they were indispensable during his time. Eloquent in speech, gallant in battle and wise in counsel – that is Ali, the highly praised by the Quran, the Prophet Muhammad and renowned thinkers of all faiths. Ali's views on matters of love, remembrance, justice and freedom are presented here, reflecting the prophetic virtues of thing and figure.
Sitakant Mahapatra "New Horizons Of Human Progress"
This anthology covers a large area of our present cultural landscape. It looks at the work of several eminent writers which include Tomas Transtromer, the Swedish poet and Nobel laureate; Gopinath Mohanty, the outstanding Indian novelist; Carlo Fuentes, the Mexican writer; Jalauddin Rumi, perhaps most eminent Sufi poet; Daisaku Ikeda, the great Japanese scholar and Rajendra Saha, the legendary Guajarati poet. Some of them were presented as keynote addresses in international and national seminars such as SAARC Festival of literature, International Sufi Festival, Annual Conference of the Association of Third World Studies. The articles on Gopinath Mohanty and Rajendra Saha were presented as key note addresses in the centenary celebration organized by Sahitya Akademi for this two eminent writers. Taken together they present an overview on the relevance of literature and cultures in our times.
 Panch Ramalingam's
"School Psychology: Prospects for Empowering Multiple Disabled Children"
The primary aim of the book is to explore the possibilities of developing and promoting school psychology services in India with special reference to children with multiple disabilities. The papers included in the volume cater to the needs of values-based special education on different perspectives. The InSPA is taking lead to train the School Psychology professionals cater to the needs of the Indian Schools.
Most of the papers have been presented at the 3rd National conference on school psychology held on National Institute for Empowerment of Persons with Multiple Disabilities (NIEPMD) on 21-23 November, 2013. The disabilities enumerated as per PWD (1995) Act, are Low Vision, Blindness, Locomotor Disability, Hearing Impairment, Mental Retardation, Mental Illness, Persons affected by leprosy and as per the National Trust (1999) Act, are Cerebral Palsy and Autism, etc. have been address by the school psychologists.
This book will be useful to address the issues related to multiple disabilities of children on how could be popularized school psychology services to the multiple disabled children in India? In addition, what could be done school psychology do to make life better for all children in general and multiple disabled children in particular? And, how could the professionals work with parents, teachers and institutions to develop school psychology services to multiple disabled children? To undertake development of human resources for management, training rehabilitation, education, employment and social development of persons with Multiple Disabilities.
This volume is very useful to promote and conduct research in all areas relating to Multiple Disabilities, to develop transdisciplinary models and strategies for social rehabilitation and to meet the needs of diverse groups of people with Multiple Disabilities, to undertake services and outreach programs for the persons with Multiple Disabilities.
 Sabita Tripathy and Nanda Kishore Mishra's
"Tracts for His Times: Bande Mataram and Sri Aurobindo's Anti-colonial Discourse"
Sri Aurobindo preached the doctrine of divinity in the motherland and stressed the need for awakening the spirit of the masses. He vehemently opposed the elitist programme of the Indian National Congress and adopted the programme of mass boycott to counter the dual policy of the colonial administration in granting concession on the one hand and ruthlessly suppressing the growth of nationalism in India on the other.
Mallikarjun Patil's "Studies In Literature In English (Vol 1)"
This is a selection and publication of research papers presented in the two day national conference on Indian English literature conducted by the Dept. of English, Karnatak University, Dharwad on 26th and 27th February 2016. The present book simply called Studies in Literature in English(Volume 1) has nearly two dozens of articles spread on different areas of academic interest. The Volume One begins with my own essay on digital humanities. Then there are articles on creative writing, comparative literature, culture, feminism, ELT, Indian English literature covering poetry and fiction, the authors like Adiga, Desai the daughter, Tharoor, Sahgal, Ghosh, Malgonkar, Mistry and Goshal. The volume has many good articles that can help the English students and teachers for shaping their academic careers.
Mallikarjun Patil's "Studies In Literature In English (Vol 2)"
This is a selection and publication of research papers presented in the two day national conference on Indian English literature conducted by the Dept. of English, Karnatak University, Dharwad on 26th and 27th February 2016. The present book Studies in Literature in English (Volume 2) has nearly two dozen papers on several areas of academic interest. There are articles on writers like Kipling, Ramanujan, Ngugi wa Thiong'o, Gilman, Kafka, Divakaruni, Geeta Mehta and Urmila Pawar. There are papers on subjects like American Transcendentalism and diasporic writing too. The volume has many good articles that can help the English students and teachers for shaping their academic careers.
Gopikrishnan Kottoor's "The Nector Of The Gods" (A Play in Three Acts)
The Nectar of the Gods, unravels the story of the execution of Devasahayam, a Nair noble in the palace of King Marthanda Varma of Tiruvitamkur, (mostly modern Kerala and further south) South India, following his conversion to Catholic faith at a time when nativereligious orthodoxy was at its peak. The narrative is remarkably visual, and skilfully blended. The Nectar of the Gods rediscovers an eclipsed dimension of Kerala that links with the present, making for a rewarding reading experience, coming from the hands of an accomplished poet. Set in its teeming backdrop of history, the book deserves the attention of every culturally conscious lover of India.
Jagdish Bali's "The Spark Is Within You"
The Spark is Within You is a motivational self-help book. The book deals with the various aspects of human life – from birth onwards. It will inspire the readers to move forward in Life. Author's personal experience, anecdotes, small stories, quotations and references from the lives of great and successful people make the reading juicy, interesting and entertaining. As truth is for those who accept it, this book is for those who are ready to squeeze out lessons from it for happy and better life. As aloe vera imparts glow to cheeks, this book will rejuvenate lives of those who are feeling over and out. They will respond as thirsty plant responds to water. It will prove an elixir for them. One can find enough in the book to shape and reshape, build and rebuild oneself.
Vinita Basantani's "Rohinton Mistry (Representations of Identity: A Critique)"
This book aims to study the fiction of Rohinton Mistry with a prospect to study the problems which trouble the Parsi psyche, such as identity crisis, rootlessness, nostalgia and disillusionment. Also, an attempt is made to examine the various thematic motifs employed by the author to depict these problems, various modes of resistance and the socio-political condition of the contemporary India.
Shyamal Banerjee's "Two Sisters And Other Stories"
Every incident in our daily life carries a story. Sometimes they are tragic and in some occasions they are hilarious. But the incidents carry some messages, which help to face the practical life. The old proverbial statement "Life is a tale told by an idiot" will remain true throughout the ages. But idiocy in our daily life has to be kept under control to derive maximum from our beautiful life. Tagore said, "I do not want to die in this beautiful world (Morite Chahina Aami Ei Sundar Bhuboane)". Idiocy helps to keep aside prejudices and gives the power to observe all events if not in minute but at least in coarse details and find how the world remains beautiful either in tragedy or in comedy. Stories are generated to give maximum pleasure in reading them. Be it disappearances of Ramu (Ramu's Fate), Biplab (Victory Procession), the unknown man (The man at Traffic Junction) or rise of Budhan from a very humble boy and becoming an extortionist (Budhan Razak and his Donkey) or ShanuDa unknowingly bringing momentary pleasure to a middleclass family (Shanu Da – The footballer).
Neelima Kanwar's
"Narratives Of Estrangement And Belongings: Indo- Australian Perspectives"
Literature of any nation cannot be studied in isolation. It must be read, studied, examined and evaluated with respect to socio-political and economic environment in which it breeds as well as the historical events which precede it. Australian literature today, too,exemplars this concept. For the Aboriginals it is self-representation that has allowed them to speak with their own voices their connection (belonging) and dis-connection (estrangement) with their land instead of being spoken about. The white settler writers struggle with the issues of conflict and contradiction between Britain and Australia and the extensive diaspora writers have traces of longing and belongings.
 Kanaksen Deka (Author), Subhajit Bhadra (Translator)
"Striving For Freedom: A Novel"
Kanaksen Deka's novel has a unique charm as it arrests the attention of the readers from the very inception and sustains that interest till the end. Deka has transcended the boundary of conventional Assamese fiction and created a rare and original novel.
A Ramesh Babu's "Subaltern Spaces In New Literature"
New Literatures in English coming from former colonies have occupied the centre stage in World Literatures. These could boast of a rich, diverse corpus of literatures with decolonization as defining principle. Also known as Commonwealth Literature, these writers from Africa, Canada, the Caribbean, and India have mostly dealt with the historical past reinterpreting it; with the immediate issues donning role of commentators; and with social-political upheavals chronicling the contemporary history. The postcolonial writers being excellent story tellers they have come up with remarkable works of art drawing upon their rich oral heritage. The present book offers glimpses of the rich diversity found in New Literatures. An interesting aspect of this is the importance given to translated work from regional literatures that have become an integral part of Indian Writing in English filling the void of social dimension there. As such, themes like caste marginalisation and social discrimination, migration, oral narratives, subversion of language, could be found in the anthology. The writers covered are Chinua Achebe, Ngugi wa Thiong'o, Rabindranath Tagore, Mahasweta Devi, Peter Abrahams, J.M. Coetzee, George Ryga, Alice Munro, Salman Rushdie, Amitav Ghosh, Arundhati Roy, Chetan Bhagat, Asif Currimbhoy, Mahesh Dattani, Volga and Yendluri Sudhakar.
N Upadhyayula's
"'TWISTING FACTS TO SUIT THEORIES' & OTHER SELECTIONS FROM Voxindica: A Voice From The New Media – COMMENTARY ON CONTEMPORARY MATTERS, MEDIA & MORES"
The book addresses key issues that concern the Indian society today: freedom of expression; media objectivity; the skewed concept of Indian secularism and the teaching of doctored history. Why is the majority religion always at the receiving end in the name of 'secularism'? Why does 'secularism' connote one obligation for practitioners of the majority religion and another for the minorities? Why does the word 'secularism' have one meaning in the Kashmir valley and another in the rest of India? Why do we teach 'doctored' history in our schools and colleges? If, as is feared, teaching about the atrocities of long gone invaders exacerbates communal tensions, why does the news media show gory images of something happened in the recent past again and again, exaggerating them a thousand-fold? Does it promote communal harmony? They call anyone who disagrees with them or anyone with whom they disagree, 'Fascists'! The milieu needs correction. It needs voices that project the right perspective. This book attempts to provide that perspective.
Koushiki Dasgupta's "Muslim Businessmen And Partition: A Bengal Experience"
The story of Bengal partition (1947) cannot be understood through a general analysis of the so-called "high politics` of the Indian National Congress and the Muslim League. There are many 'silences` in the pre histories of partition as well as in the making of nation states in India and Pakistan afterwards. Historians have laid scant attention on the role played by the Muslim business and mercantile communities in the modern history of south Asia.. In general the Muslim businessmen were not taken seriously rather they were cornered at a point of historical stagnation.This monograph deals with the Muslim businessmen of Bengal, their political aspirations as well as their attitude of adjustment to the Pakistan proposal. Since the interests of the non-Bengali Muslim businessmen were different from the Bengali Muslims, this book takes note how the issues of Muslim big business and partition was settled in Bengal and how the personalities like M.A Jinnah, Ispahani, Adamjee and others had emerged as the source of inspirations for the Muslim businessmen in the 'end game of empire`.
Appu Jacob John's "Ramblings On Neoliterature"
Ramblings on Neoliterature is a collection of papers written on new topics of discourse around the world. This work is especially noteworthy as it concerns a large number of neo-literatures which are emerging in the literary arena. This is an attempt to understand these literatures and again to open them to the face of critical analysis.
Silima Nanda, Arati Biswal and Smita Sinnha's
"Neocolonial Literature"
The neocolonial writers intended the pathos and emotive power of their works to instigate the oppressors to initiate a political and economic reorganization of society in the interest of the oppressed…Neocolonial writers have established their challenges in narration and discursive terms…
Nandini C Sen's "Through The Diasporic Lens"
The selection of essays in this volume Through the Diasporic Lens explores the dynamics and problematics of diasporas globally. Migration and Diaspora formations, which are familiar in the twenty- first century, require a sustained study of the changing dynamics of contemporary times. The essays in this volume are divided into three broad areas: a theoretical understanding of diaspora, its literary forms and its political underpinnings. The essays delve into the dynamic of diasporic existence in all forms, thus making this book a comprehensive site for diaspora studies. It is the first in a planned series on Diaspora Studies, it features writing by research scholars and established academics, thereby spanning the entire gamut of research in this area. It will be followed by subsequent volumes focussing on the same field.
R S R Silvest and Subhajit Bhadra's
"Contemporary Post Colonial Literature"
The present book analyze the postcolonial notions presents in English Literature. Reading and writing about postcolonial poetry, drama, fiction, and memoir by Caribbean, subcontinental Indian, Irish, African, Australian, and Canadian writers gives students the opportunity to stretch critically, while encountering some of the riches of recent postcolonial Anglophone writing. Postcolonial literature focuses on cultures, crossing boundaries of identity and nation. Moreover topics include the politics of language, hybridity, race, migrancy, exile, western beauty standards, interrelation of the subject, borderlands, and post-imperial societies.
Saleem (Author) P. Jayalakshmi (Translator)
"A Ray Of Sunshine"
The stories in A Ray of Sunshine could be read sequentially or as individual units. The stories begin with meeting of the main protagonists Rani and Saif as students joining college for a degree course. The stories take us through their decision to get married, the problems they meet on the way to their marriage and those they confront through their married life. Stories conclude with the marriage of their daughter. Interlaced with humour, the predominant thrust of the stories is the strong message that love knows no religion, caste or community. Humanism, innate goodness and communal harmony are values to be cherished.
Reena Prasad, Michele Baron and Dr Koshy AV's
"Silhouette I & II and Other Fiction"
This is an international anthology of short-fiction containing the title stories Silhouette I and II by Dr. Santosh Bakaya and Dr. Koshy AV, respectively, and featuring Reuel Prize winner for fiction 2016 Sunila Khemchandani's novella Eternal Links. It also has stories by Michele Baron, Reena Prasad, Megha Sumant Sharma, Joanna Sarah Koshy, Aiswarya Menon, Angela, Anilkumar Payyappilly Vijayan, Anindita Bose, Bhuvaneshwari Shivakumar Shankar, Daipayan Nair, Dominic Francis, Fatima Afshan, Gorakhnath Gangane, Gauri Dixit, Kiren Babal, Lopa Banerjee, Niladri Ranjit Chakraborty, Pramila Khadun, Rhiti Chatterjee Bose, Soumya Mukherjee, Shabir Ahmad Mir, Satbir Chadha, Sandeep Koul andVineetha Mekkoth. The front cover's artwork is by Michele Baron and the photograph of Kovalam used was taken by Gauri Dixit.The cover was designed by Authorspress. The writers come from all over India, UK, Philippines, Spain and America.
Nazneen Zehra's
"Large Mammalian Prey Predators in Gir: Status, Ecology and Conservation"
The Gir National Park and Sanctuary located in Kathiawar peninsula of Gujarat state of India is one the best managed protected area of India. It has the unique distinction of having sole population of Asiatic lion (Panthera leo persica). The lion co-exist with leopard (Panthera pardus fusca) in Gir and both predators have very high density inside as well as outside Gir PA. This book deals with estimation of relative abundance of lion and leopard, spatio-temporal availability of prey biomass and its seasonal utilization by leopard and lion, seasonal home range pattern and large predator-human conflict around Gir protected area. The large predator-human conflict has assumed alarming proportion especially on the southern periphery and the study has mapped the spatial and temporal pattern of conflict and the strategies which may be used to reduce the conflict.
S K Mishra's "India's Foreign Policy: Emerging Challenges"
Foreign policy is an expression of a country's perception of and projection to the world of its national interest. India has always had a conspicuous element of moral values in the formulation of foreign policy. Thus, even if India promotes self interest, it is an enlightened one. However, there is a mix of pragmatism and idealism, best reflected in its decisions to abstain from joining the NPT and CTBT, while remaining committed to non-proliferation and a nuclear free world. While taking steps to weaponise its nuclear programme, India proclaimed unilateral moratorium on further tests as well as no-first use. India took unambiguous positions when NPT signatories such as Iran and North Korea seemed to depart from their international commitments. Indian foreign policy and India's approach to the conduct of the foreign relations therefore will have to be an extremely pragmatic one which despite its idealist content should be based on the harsh realities of International Politics.
Gouri Sharma's
"Academic Achievement in Relation to Classroom Environment of Rural and Urban Students"
Achievement is one of the main factors in assessing the quality of education in a society. Identifying the factors that affect students' learning and, thus, achievement continues to be an important objective of study of educators of different countries. The classroom environment has a big influence on student outcomes and plays an important role in improving the efficiency of learning in all levels of classrooms. Students learn better when they perceive their classroom environment positively, Understanding how to establish and maintain a positive classroom climate is seen as basic to improving schools. How can we organize the environment in the school and classroom so that such interactions support and enhance both teaching and learning, and where children feel safe, happy and wanted, and which teachers find meaningful and professionally satisfying? Often classrooms are overcrowded, with no alternative spaces to learn, nor are they attractive, inviting or sensitive towards children's needs. Keeping in view the importance of classroom environment in relation to academic achievement of the rural and urban students, the present study aimed to investigate the relationship between classroom environment along with its various dimensions, locale and sex with academic achievement. This study will also be an essential resource tool for scholars engaged in classroom research.
Praveen Kumar's
"Associationalism and Democracy in India: An Exploration of Community Identity and Individual Interests in the Bhagalpur City of Bihar"
The book is a modest attempt to understand the linkages between associational life and democracy from an Indian perspective. The discourse on associational living and democracy has been looked at largely in the context of western liberal values. The literature with respect to the latter aspect is numerous and also provides valuable theoretical insight and empirical evidences towards the fact that the intermediary associations help enrich democratic values, even though there may be certain instances, which may indicate that this linkage needs to be looked at critically. In this background, the book argues that understanding of associational life under Indian conditions differs fundamentally from those of western societies. The Indian society is not composed of 'unencumbered selves'. The issue is not that whether India has a strong tradition of associations, and hence vibrant democracy, as per the western liberal standards. The issue is the context of democratisation and inclusion of additional concepts and categories to appreciate the meaning of associativeness and its linkages with democracy.
P K Srivastava,  Pratibha Rai and Saumya Shukla's
"Spiritual Ecology and Sustainability: Practice and Confluence"
As a collection of essays, Spiritual Ecology and Sustainability: Practice and Confluence is a celebration of the spiritual ecological consciousness of its contributors. The book reinforces spiritual ecologists' view that as primary segments of nature, human beings need to focus on environmental ethics that is ecology-centric rather than anthropocentric. The present collection also pays particular attention to the relationship between modern science-based knowledge and values that are derived from the deep-seated practices, philosophy, spirituality and culture that influence ecological behaviour. On the same register, this book also addresses the rationale for incorporating a spiritual ecology-centric education system. This book hopes to interest environmentalists and conservationists; people with spiritual leanings looking for environmental solutions; econometricians desirous of measuring the abstract ethical domain for solving die climate predicament of today; and believers in native ecosystems and animistic philosophy.
R K Bhushan Sabharwal's
"Jayanta Mahapatra; A Poet of Unchallenged Fidelity to Art"
The book is a study of the poetic genius of the highly celebrated poet of the Indian English Poetry, Jayanta Mahapatra, is a deep and serious reflection on the poetic art to reveal fresh perspectives. Prof. Bhushan's chief focus here is on the historical, socio-cultural, religious and political concerns of Jayanta Mahapatra in view of his admirable, honest and bold convictions and commitment to art. This is a good attempt by the poet-critic-intellectual, Prof. Bhushan to further expand the understanding of this greatly valued precious treasure of Indian English Poetry.
Hareet Kumar Meena's "Tribal Resistance Movement in India"
The resistance movement of tribes in pre and post-independence era is an important chapter in the history of India. The contribution of tribes, whether tangible or intangible, in the socio-cultural sphere and freedom struggle cannot be underestimated. It is a fact that tribe loves their vicinity, law, culture and religion and throughout colonial rule, they preferred to live in isolation. The coming of the British and the establishment of their rule in various parts of India in the late 18th century started to create problems for tribal segment. The colonial policies and the programmes, the system of land revenue, interference in socio-cultural tradition of the tribes, introduction of land and forest act, construction of roads and railways through the tribal areas, etc. alienated the tribes. Consequently, a series of resistance movements took place in various parts of India.
Vikash Kumar's "Religion, Ethnicity And Resistance: Why Can't We  Coexist?"
The articles in this book analyse the quest between Religion, Ethnicity and Resistance and whether they can coexist or not. For a nation like India, religion and ethnicity comes in multitude and so does its complexity. In such state of heterogeneity, resistance comes handy. Resistance often has positive, even heroic connotations too. Yet it defies precise definition. It has two facets viz., violent as well as non-violent. The problem of non-violent resistance is, of course, not specific to any religion, instances of violent resistance galore in History. The problem of resistance, religion and ethnicity must be posed theoretically; that would surely involve questioning the definition of religion, ethnicity and resistance too, that has been addressed by the contributors in this book.
P V Laxmiprasad "The Poetry of I K Sharma"
Dr. P. V. Laxmiprasad is an active academician, an avid researcher, a literary critic, and a resource person. A teacher with two decades of experience, he is the author and editor of eight published books. His romance with literature began right from childhood days when he was guided to read the ancient Hindu epics. He strongly believes in the philosophy that "Man has brought nothing with him and Man shall take nothing with him".
Jatin Bala (Author), Jaydeep Sarangi (Editor)
"Stories Of Social Awakening: Reflections of Dalit Refugee Lives of Bengal"
Jatin Bala's stories hold truth. These stories capture life's black holes at different points, life of a refugee struggling for survival. Some stories explore pangs and angst of a dalit surviving in a non dalit milieu. They are part of human literature. Some stories conceive the position of the liminal people placed on the thin edge between visibility and invisibility, between survival and death, between nothing and something. Stories in this collection go beyond any particular tag. They are universal in appeal. Translators and the editor) have tried to keep the flavour and sentiments intact.